De volledige lijst met bug bounty-programma's voor 2021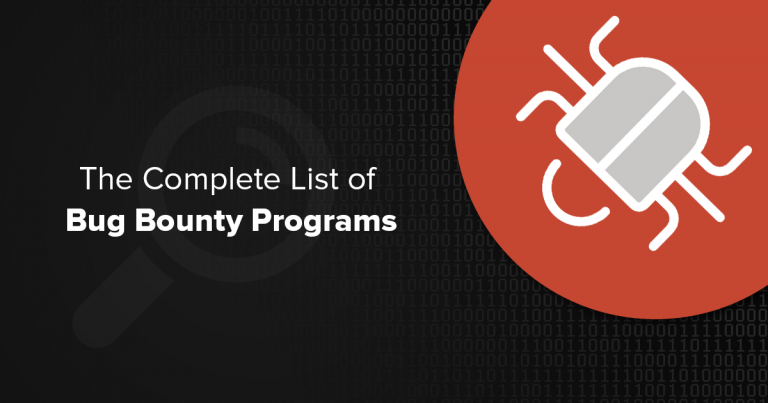 Veel bedrijven dagen hackers – of eigenlijk iedereen die het wil proberen – uit om een bug in hun beveiligingssystemen te vinden en in te breken. Verder geven ze iedereen een beloning die hierin slaagt. Hoe groter de bug, hoe hoger de beloning. Dit staat over het algemeen bekend als een bug bounty oftewel een beloning voor het vinden van een fout in het systeem.
Het lijkt raar om hackers te vragen om kwetsbaarheden in je systeem te vinden, maar dit zijn ethische hackers die in het testen van websites en software zijn gespecialiseerd.
Bovendien is het altijd beter als er een bug wordt ontdekt door iemand die voor jou werkt dan door iemand die niet voor je werkt.
De manier waarop organisaties van bug bounty-programma's profiteren
Dankzij bug bounty-programma's worden de systemen van bedrijven gecontroleerd waardoor de kans groter is dat kwetsbaarheden op het gebied van beveiliging worden ontdekt.
Maar er bestaat geen waterdicht systeem. Ongeacht hoe vaak je je software laat testen, er zullen altijd bugs worden gevonden. Het is het beste om een bug op te sporen en te verhelpen zodat deze niet tot grote problemen leidt.
Bug bounty-programma's hebben een geld besparende functie. Een datalek kan tot het betalen van miljoenen euro's aan schadevergoeding leiden, om van de reputatieschade voor het bedrijf nog maar te zwijgen. Daarom is het veel beter om een paar duizend dollar aan een bounty bug-programma uit te geven dan waardevolle gegevens te verliezen.
De manier waarop hackers van bug bounty-programma's profiteren
Bug bounty-programma's bieden hackers de mogelijkheid om hun vaardigheden te testen.
De uitdaging is een van de leuke dingen aan hacking. Verder is het een ethische en daarom volledig legale manier van hacken.
De bedragen die als beloning worden betaald kunnen aardig oplopen.
Als hackers een bedrag krijgen uitbetaald, krijgen ze meer erkenning van andere hackers
Is dit het proberen waard?
In 2016 maakte Apple bekend dat ze een premie van maximaal $ 200.000 (!) betalen aan hackers die kwetsbaarheden in hun producten aantreffen. En Apple is niet het enige bedrijf. Facebook, het Pentagon, Tesla, Google en Microsoft hebben allemaal vergelijkbare programma's en bieden veel geld als er grote fouten in het systeem worden gevonden. Facebook heeft hackers sinds de lancering van hun bug bounty-programma in 2011 zelfs al meer dan $ 4,3 miljoen uitbetaald. Als je de juiste vaardigheden hebt, is er waarschijnlijk iemand die hiervoor wil betalen.
Zou jij premiejager op het gebied van bugs kunnen zijn?
De volledige lijst met bug bounty-programma's
Dit is een lijst met alle bug bounty-programma's die er momenteel beschikbaar zijn.
(ISC)²
.nz Registry
0x Project
123 Contact Form
18F
1Password Game
23 And Me
ABN Amro
Accenture
Accredible
Ace Busters
Acquia
Actility
Active Campaign
Active Prospect
ActiVPN
Adapcare
Adobe
Adyen
Aerohive
Affiliate Coin
Aion
Air Force Mining
Air VPN
Airbnb
Aircloak
Airdropster
AIrMiles Shop
Airswap
Aisi
Alcyon
Algolia
Alibaba
Alien Vault
Aliexpress
Altervista
Amara
Amazon Web Services
Ancient Brain
Android
Android Free Apps
Android Open Source
Anghami
AntiHack
AOL
Apache
Appcelerator
Apple
Apple (Dev)
Appoptics
Aptible
Aragon 
Arch Linux
Ark
ARM mbed
Armis
Artifex
Artsy
Asana
Asterisk
Asus
AT&T
Atlassian
Augur
Auth0
AuthAnvil
Automattic
Avast!
Aventus
Aventus Protocol Foundation
Avesta
Avira
Badoo
Bancor
Barracuda Networks
Base
Basecamp
BASF
Battle.Net
Beamery
Beanstalk
Belastingdienst
Belden
Belgian Rail
Belgium Telenet
Betcoin
Beyond Security
Bime
BiMserver
Binance
Binary.com
Bing
Bit My Money
BitAccess
BitBNS
Bitcoin
Bitcoin.DE
BitDefender
BitGo
Bitofertas
Bitonic
Bitpay
Bittrex
BItwage
BitWarden
Bizmerlin
BL3P
Blackboard
Blackcoin
Blesta
BlinkSale
Blockchain
Blockchain Technology Research Innovations Corporation (BTRIC)
Blogger
Booking.com
Bosch
Boston Scientific
Bounty Guru
BountyFactory
BountySource
Box
Boxug
Braintree
BRD
BTX Trader
BudgetSimple
Buffer
Bug Crowd
BugsBounty
Bynder
C2FO
C2L
Campaign Monitor
Cappasity
Carbon Black
Card
Cargocoin
Carnegie Mellon University Software Engineering Institute
Cayan
Central NIC
Centrify
CERT EU
Chalk
ChargeOver
Chargify
Chase
Chiark
Chill Project
Chrome
ChronoBank
CircleCi
Cisco
Cisco Meraki
CJIB
ClickUp
Clojars
Cloudflare
Coalition Inc
Cobalt
Code Climate
Codex WordPress
Coin Janitor
Coinbase
Coindrawer
Coinhive
CoinJar
Coinpayments
CoinSpectator
CoinStocks
CoinTal
Commons Ware
Compose
Constant Contact
CoreOS
Coupa
CPanel
Craigslist
Credit Karma
Crowdfense
CrowdShield
Crypto Angel
CryptoNinja
Customer Insight
Custos Tech
CyLance
Danske Bank
Dash
Dato Capital
DC Compendium
De Nederlandsche Bank
de Volksbank
Debian Security Tracker
Deco Network
Deconf
Defensie
Deliveroo
DeliveryHero
Dell
Deribit
Detectify
Deutsche Telekom
Digital Ocean
Discord App
Discourse
Distilled ODN
Distimo
Django
DJI
DNN Corporation
DNSimple
Docker
DOD
DoorKeeper
DPD
Drager
Drchrono
DropBox
Dropmyemail
Drupal
Duo Labs
Duo Lingo
Duo Security
Dyson
eBay
Eclipse
ee.Oulo
eero
Electronic Arts (Games)
Electronic Frontier Foundation (EFF)
Eligible
EMC
Emptrust
Enterprise XOXO Today
Envato
Erasmus
ESEA
ESET
Ethereum bounty
Etherscan
ETHfinex
ETHLend
ETHNews
EthnoHub
ETHorse
Etsy
EVE
Event Espresso
Eventbrite
Evernote
Evident
Expatistan
Express VPN
ExpressIf
Expression Engine
F Secure
Facebook
FanDuel
FastMail
FCA
FFmpeg
Firebase
Firebounty
Fireeye
First
FitBit
FlexiSPY
FlexLists
Flood.io
Flow Dock
Fluxiom
Fog Creek
Foursquare
Fox IT
Foxycart
Free Software Foundation
Freedom of Press
Freelancer
FreshBooks
FUGA CLOUD
Gamma
Garanti Bank
Garmin
GateCoin
GateHub
Gemfury
Genesis ICO
Ghost
Ghostscript
Gimp
Github
Gitlab
GlassWire
GLX
Gnome
Gnosis
GoDaddy
GolemProject
Google
Google PRP
Google PRR
Grabtaxi Holdings Pte Ltd
Greenhouse Software Inc
Grok Learning
Guidebook
Hack For Cause
Hackenproof
Hackerearth
HackerOne
Hackner Security
HakSecurity
Harmony
Havest
Havven
HelloSign
Help Scout
Heroku
Hex-Rays
HID Global
Hidester
Hirschmann
HIT BTC
Honeycomb
Honeywell
Honour
Hootsuite
Hostinger
HTC
Huawei
Humble Bundle
Hunter
Hybrid Saas
HyperLedger
I SIgn This
IBM
ICEcoder
Icon Finder
ICS
ICT Institute
iFixit
IIT-G
IKEA
Imgur
Impact Earth
ImproSec
Indeed
Indorse
Inflectra
InfoPlus Commerce
Infovys
ING
Instacart
Instamojo
Instasafe
Instructure
IntegraXor (SCADA)
Intel
Intercom
Intercom
Internet Bug Bounty
Internetwache
Intigriti
Intrasurance
Invision App
IOTA
IPSWitch
Issuu
IT BIT
Iwantmyname
Jet.com (API)
JetApps
Jetendo
Jewel Payment Tech
Joomla
jruby
JSE Coin
Jumplead
Juniper
Kaseya
Kaspersky
Keep Key
Keepass
Keeper Chat
Keeper Security
Keming Labs
Kentico
KissFlow
Kraken
Kryptocal
Kuna
Kyber
Kyup
Ladesk
Lahitapiola
LastPass
LaunchKey
League of Legends
LeaseWeb
Ledger
Legal Robot
Lenovo
Leverj
LibSass
LifeOmic
Liferay
Line
LinkedIn
Linksys (Belkin)
LiveAgent
LML Coin
Local Bitcoins
Local Monero
Logentries
LZF
Magento
Magix AG
MailChimp
MailRu
Malwarebytes
Manage WP
Manalyzer
Martplaats
Massachusetts Institute of Technology
MassDrop
MasterCard
Matomo
Mattermost
Maximum
Mbed
McAfee
MediaWiki
Medium
Meraki
Merchant Shares
Meta Calculator
Meteor
Microsoft (bounty programs)
Microsoft (Online Services)
Microweber
Mime Cast
MIT Edu
Mobile Vikings
Mollie
Monetha
Moneybird
Moon Runner
Motorola
Mozilla
Muchcoin
My Trove
MyStuff2 App
N26
NCC Group
NCSC
NDIX
Nearby
NEM
Nest
NetApp
NetBeans
netf
Netflix
Netgear
New Relic
NextCloud
Nimiq
Nitro Token
NMBRS
NN Group
Nocks
Nokia Networks
Nugit
Nuxeo
Nvidia
NXP
Oath
Observu
OCCRP
Odoo
Offensive Security
Olark
OneLogin
Onfido
Open Bounty
Open Office
Open Source University
Open SUSE
OpenBSD
Openclass Knowledge Base
OpenSSL
OpenText
OpenVPN
OpenXchange
Opera
Oracle
Orange
Orion Health
Outbrain
Outreach
OVH
OWASP
Owncloud
Packet Storm Security
PagerDuty
Panasonic Avionics
Panic
Panzura
PaperTrail App
Paragon Initiative Enterprises
Parity Tech
PasteCoin
Paychoice
Payiza
Paymill
Paypal
PaySera
Paytm
Peerio
Pentu
Perl
Philips
PHP
Phrendly
Pidgin
Pinoy Hack News
Pinterest
Plesk
Plone Framework
Pocket
POLi Payments
Polyswarm
Populous
Port of Rotterdam
PostMark App
PowerDNS
Prezi
Private Internet Access
Privatix
Proof Work
Proto VPN
Proz
Puppet Labs
PureVPN
PushWhoosh
QEMU
Qiwi
Qmail
Qualcomm
Quantopian
QuantStamp
Quickx
Quora
Qwilr
Rabo bank
Rackspace
Rainforest
Raise
Rapid7
Razer
RCE Security
Recht Spraak
Red Sift
RedHat
Regionale Belasting Groep
Release Wire
Report Garden
Request Network
Rev Next
Rhino Security Labs
Ribose
RightMesh
Rijskoverheid
Riot Games
Ripple
Rocket-Chat
Roll Bar
Royal Bank of Scotland
Rust
SafeHats
SalesForce
Samsung – Mobiles
SAP
Saveya
Scaleft
Secure Pay
Secureworks
Security Escape
Segment
Sellfy
Sentry
ShareLaTex
Shivom
Shopify
ShowMax
Shuberg Philis
Sifter
Sifter
SIgnify
Silent Circle
Silver Gold Bull
Silver Gold Bull CA
Simpplr
SiteGround
SiteLock
Skoodat
Skuid
Slack
Sli Do
Smartling
Smokescreen
SNS Bank NL
Snyk
Socrata
Solar Accounts
Solve 360
Solve 360
Solvinity
Sonatype
Sony
Sophos
SoundCloud
Sphere
Sphero
Spilgames
SplitWise
Splunk
Spokeo
Sporty Co
Spotcap
Spotify
Spreaker
Spring Role
Sprout Social
Sqreen
Square
Starbase
Starbucks
Starleaf
StatusPage.io
Stellar
Stellar Gold
StopTheHacker
Stox
Studielink
StudiVZ (Report)
Swachh Coin
Swiggy
SwissCom
Symantec
Synack
Synapse
Synology
Synosys
Takealot
Talent LMS
TarSnap
Taxi Butler
TeeSpring
Telecom Italia
Telegram
Telekom
Telenet Belgium
Tendermint
TenX
Teradici
Tesla
TestBirds
The Atlantic
Thinkful
ThisData
Thuisbezorgd
Tictail
Tinder
Token Valley
Tokia
TorGuard VPN
TransLoadIt
Traveloka
Trend Micro
Trezor
Tron Network
Trustly
TrustPay
Tuenti
Tumblr
Twilio
Twitch Interactive
Twitter
Typo3
Uber
Ubnt
Ubuntu Server
Umbraco
Unchained
Unitag
United Airlines
United Nations
Unity
Unocoin
Uphold
Upscope
Upscope
Upwork
Valve
Van Lanschot
Vanilla
Vasco
Venmo (App)
Verizon
Viadeo
ViewPost
Vimeo
Virtual Box
Visma Enterprise Oy
VK
Vodafone Security DE
VSR
Vu
Vulnerability Laboratory
Walmart
Wamba
Wave Stone
We Transfer
Weave Work
Web GUI
Webconverger
Weblate
Webmini
Websecurify
WeiFund
Werken Bij Defensie
West Sabine
Western Union
WhatRuns
White Hat Securities
Wickr
Wickr
Winding Tree
Windows
Windthorst ISD
WINGS DAPP
WINK
WordPress
XenProject
Xiaomi
XYO Network
Yahoo
Yahoo
Yandex
Yelp
YouTube
ZantePay
Zapier
Zcoin
Zenmate
Zerobrane
Zerodium
Zeta
Zetetic
Zimbra
Zimperium
Zipline
Zoho
Zomato
Zynga
Denk jij dat je een bug kunt vinden om een beloning te krijgen? Als je goed in het ontdekken van systeemfouten bent, kun je hierdoor eenvoudig miljonair worden. Beproef je geluk door een van deze bug bounty-programma's te proberen.
Privacywaarschuwing!
Je data wordt blootgesteld aan de websites die je bezoekt!
De bovenstaande informatie kan worden gebruikt om u te volgen, u te targeten voor advertenties en te controleren wat u online doet.
VPN's kunnen u helpen deze informatie voor websites te verbergen, zodat u te allen tijde bent beschermd. Wij raden NordVPN aan - de nummer 1 VPN van meer dan 350 providers die we hebben getest. NordVPN biedt versleuteling van militair niveau en privacyfuncties die uw digitale veiligheid garanderen en heeft momenteel 68% korting.
Privacy Alert box - content - Popular posts